"Tell me and I'll forget; show me and I may remember; involve me and I'll understand." – Chinese Proverb
Children (ages 7 and up) and their parents or educators will find the St. Louis World Food Day Commemoration to be an outstanding way to go beyond the classroom to learn about global hunger, health and nutrition.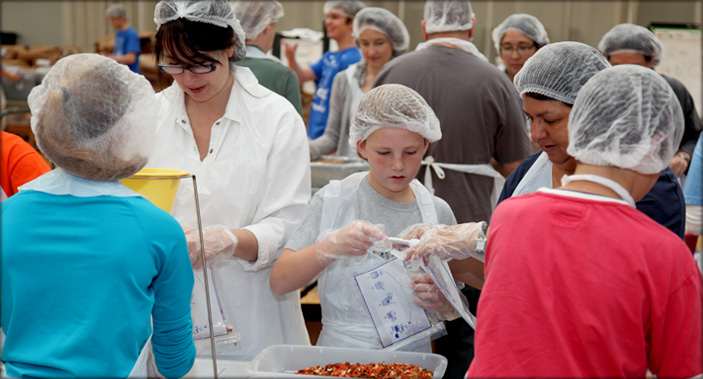 Teachers: Encourage your students to participate in the packaging experience we have planned and supplement your teaching with some of the resources found here. To spread the word:
Use Email: to share the details and date; this is a great way to encourage students (and parents) to learn more and participate. The following is a sample email you can adapt:
Check out this really cool opportunity from St. Louis World Food Day. They are hosting a World Food Day Commemoration on October 14 during which St. Louis children and adults come join them for a one hour period as part of team creating food packets for hungry children and families in local and international communities. The goal is to create more than 350,000 meals in a single day. Go to their Web site for more information and to volunteer: www.stlwfd.org
Hang Our Poster: Post it around school for your students to learn more! Download the poster.
Link to our Web Site on Your Class/School Home Page
Attend yourself! You will enrich your classroom skills and experiences and have fun!

Registration is now open and will fill quickly!
If you have registration questions, please phone Mary Beth Soffer at 314-786-2785.